The II Edition of the Costa del Sol Beach Polo Cup was held at the Kempinski Hotel Bahía on the 4th and 5th of May and attracted the crème de la crème of the Costa del Sol society to Estepona as well as over 1,000 spectators.
International players including Patrons Niclas Johansson, Andrew Nolte, and Carlos Piñal the high level professionals Jamie Le Hardy, Douglas Thompson and Hernan Pieres put on an excellent show for the crowds over the two-day event. 
The teams battled it out to win the cup to the delight of the spectators. The gripping final between Pagani and Perlage saw both teams competing until the final whistle, with Perlage taking the title in this very closely fought match. Team Pagani followed very closely behind and all teams put on a fantastic display of beach polo.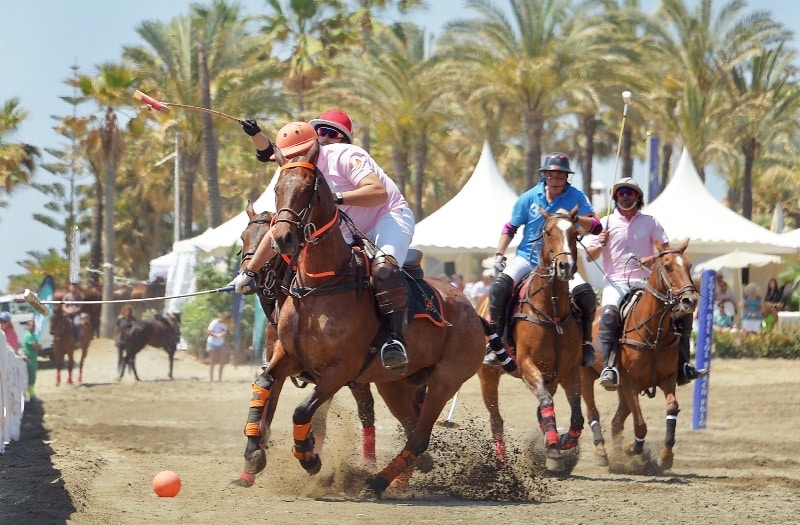 Following the matches there were two glamourous events at the Kempinski Hotel Bahia's new beachside restaurant Spiler Beach Club. The After Polo Party and Polo Glam Lunch saw VIPs including Countess Gunilla von Bismarck and Luis Ortiz, Victoria Junot, and with corporate tables from Christies, Les Roches, Bulgari and Scapa Sports rubbing shoulders with the professional polo players and the Mayor of Estepona. 
Bélen Cepero from Premier Law won the award of the first 'Lady Polo Chic', which was presented by organizer Isabel de Borbon in front of the crowds. 
With the champagne flowing, a wonderful atmosphere, with dancing, superb food and exceptional service at the Kempinski Hotel Bahía, the event was a great success. Kempinski Hotel Bahía and the Town Hall of Estepona were congratulated for being the driving force in bringing beach polo to the Costa del Sol. With further congratulations to sponsors Perlage, Bvlgari, Pagani, Les Roche, Christies, SCAPA, Premier Law, Guarnieri and Luis Felipe Brandy for their support.
Winning team of the II edition of COSTA DEL SOL BEACH POLO CUP – PERLAGE – Patron Niclas Johansson, Segundo F. Llorente & Constantine Mahe
Trophy given by the mayor of Estepona José María García Urbano
Special Prize for patron of winning team Niclas Johansson courtesy of BVLGARI
Event organizer Isabel de Borbon – Polo4Ever
Find out more www.kempinski.com/estepona