Twisted Art Gallery in Puerto Banús hosted an exclusive solo exhibition of superstar artist Alec Monopoly. As the only authorised gallery in Spain who exhibit Monopoly's artwork, they brought him to Marbella for the first time and exhibited over 40 pieces of his works for one night only. Invited guests were lucky enough to see this showcase of his work and meet the artist himself at this glamorous event.
Art collectors and gallery owners Dylan King and Kevin Simpson have been collecting Alec Monopoly's work for five years. They first purchased an Alec Monopoly Richie Rich artwork in 2018 and have collected many more of his iconic artworks in their personal collection. With the opening of their gallery in June this year, they were very excited to be able to bring his artwork to Spain. Twisted Art Gallery is one of only three galleries in Europe lucky enough to directly work with Alec Monopoly, and they transported over 40 pieces from his last event in Mykonos to exhibit them in Marbella this summer.
The gallery also exhibits Alec Monopoly all year round, alongside 20 other artists. Their contemporary collection of 500 artworks is rotated regularly to delight visitors with the very hottest urban, street, pop and decorative art. At present they have three Alec Monopoly artworks on display, with many more available to enjoy and purchase.
Alec Monopoly is originally from New York City and his graffiti art can be seen in urban environments across the world. Growing up in New York City with a classically trained painter as a mother, Monopoly considers himself a lifelong artist. Eschewing formal training for his pursuit of creating street art, Monopoly has established himself as one of the foremost artists of this genre.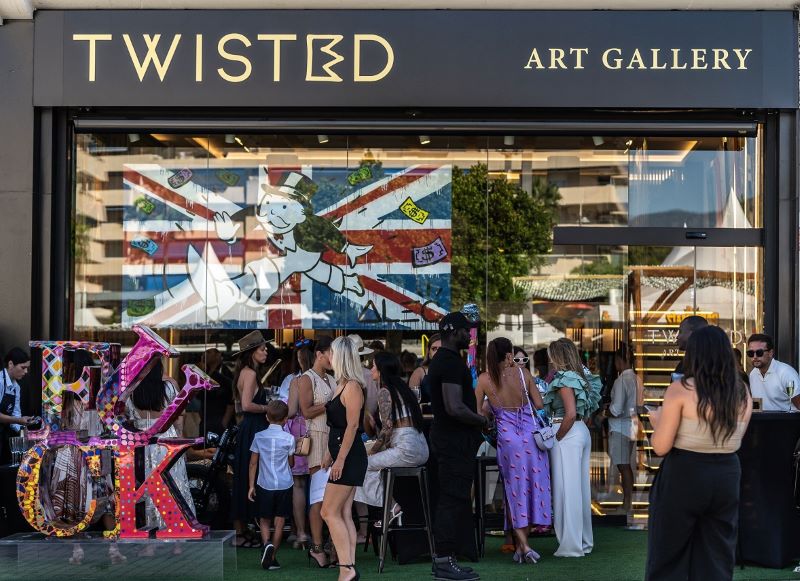 His unique style takes a light-hearted approach, differentiating him from his contemporaries and giving his art a relatable quality. Using varied materials (including stencils, spray paint, epoxies, varnishes, and newspapers) Monopoly subversively depicts various icons of pop culture using cartoon illustrations as his own political commentary, and in the process has generated his own recognizable style of street art.
Monopoly's tableaux, done on city surfaces, newsprint, sheet music or canvas, his work typically depicts the moustachioed, top-hat-wearing, Monopoly board game character performing a variety of activities, from sprinting with a moneybag under one arm to spinning turntables as a DJ. In 2016, Swiss watch company TAG Heuer announced a collaboration with Monopoly at Miami Art Basel, naming him the company's "art provocateur." He created a mural, live and on red carpet for the 2013 film, "BELIEVE," about Justin Bieber. Monopoly's work has been purchased by Miley Cyrus, Robin Thicke, Snoop Dogg, Seth Rogan, Adrien Brody, and Iggy Azalea, among other renowned collectors.
Twisted Art Gallery's Director Dylan King comments, "I love Alec's story, from his humble beginnings to a world-famous superstar collected by household names. The iconic style and Richie Rich character he uses, with the cartoon theme, create artworks which we love to collect and share with others at the gallery. His unique style has become incredibly popular and imitated so many times by so many artists and he really is an amazing and influential artist.
The event was a huge success and it was a pleasure to welcome Alec to Marbella. It was wonderful to see so many of his artworks in the gallery and show our clients how amazing his artwork really is. Lots of our clients got to meet Alec and get photos with him. Alec even dedicated lots of his artwork we sold to our clients on the night, signing pieces live in the gallery. It was a very special evening and we'd like to thank Alec and everyone who attended."
Twisted Art Gallery is located at Plaza Antonio Banderas 18, Puerto Banús, close to El Corte Ingles. It is open to the public Tuesday to Sunday from 11.00 to 20.00.
Find out more about the gallery at www.twisted-artgallery.com, on Facebook @twistedag or on Instagram @twisted.ag.