Chairman and Founder of IDILIQ Developments, Roy Peires, today launched the company's latest development of 104 branded residences at the Royal Marbella Golf Resort.
The launch event saw more than 100 real estate agents from along the coast learn about the developers upcoming projects on the Costa del Sol and Tenerife. Peires told the guests about the various projects the company have developed since 1984, before adding: "We will continue to develop thousands of holiday homes as we have been doing throughout our history, both here and abroad."
Royal Marbella Golf Resort will offer the perfect setting for exclusive and sophisticated living. Here, one, two and three-bedroom apartments will be set within lush green surroundings and interiors styled by international award-winning designers, FOC Designs. Each modern suite will come fully furnished with fitted kitchens, and boast either mountain, golf or sea views. Personalised upgraded versions will also be available.
This is another chapter in IDILIQ Developments success in launching branded residences, having recently sold out a Wyndham Grand Residences project in Mijas Costa.
The management of this project offers affiliation to Homes & Villas by Marriott International, the boutique residences division of the famous hotel and resort group. Combining home ownership with 5-star style services future owners will enjoy a broad selection of relaxation and entertainment in the palm of their hand, including two pool areas, a restaurant and daytime cafe, gym, spa, and a concierge team.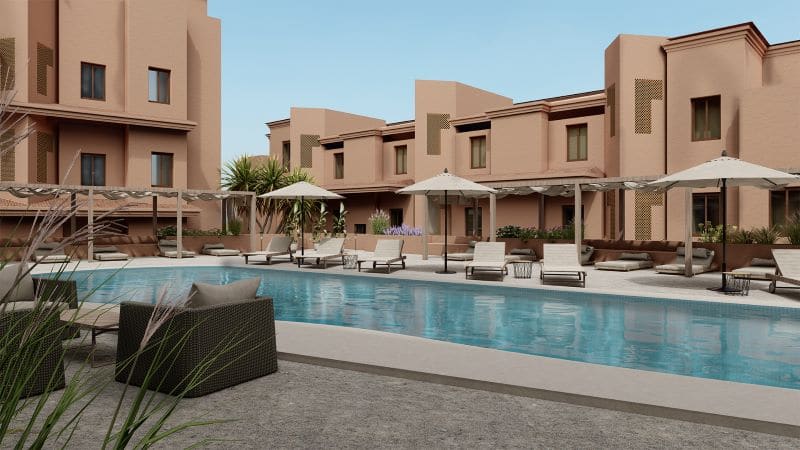 Royal Marbella Golf Resort is situated in what is known as the 'Golden Triangle' of the Costa del Sol between Marbella, Benahavís, and Estepona. Surrounded by exclusive home developments, superbly connected, and in the middle of the most luxurious towns of the Costa del Sol, this is a sure investment for owners looking for more than a simple residence.
The Resort is overlooking two iconic golf championship courses, with another nine golf clubs only five minutes away.
The launch of 104 branded residences at Royal Golf Marbella Resort was not the only announcement in the IDILIQ Development presentation. It was also revealed that 58 new luxury townhouses in La Cala de Mijas will be coming soon and is a project Peires and the team were excited to share.
IDILIQ Developments are pioneers within the branded residence concept and have been at the forefront of new resort developments on the Costa del Sol, Tenerife, the UK, Turkey, and Florida since 1984.