José Antonio García Rueda, from Casa Paco, Daniel Rivera, from Los Mellizos, and Miguel León, from La Mar Bonita and Espeteros a Domicilio, all of them from Torremolinos, have been the first, second and third winners of the VII Costa del Sol Espetos Contest organized by the Círculo de Empresarios de Torremolinos. The three prizes have an economic endowment of 1,000, 500 and 300 euros respectively, in addition to a commemorative trophy. On this occasion, a score of espeteros from different municipalities of the province have participated in an event that took place in Playamar with the assistance of the territorial delegate for Tourism, Nuria Rodríguez, the second vice president of the Malaga Provincial Council, Margarita del Cid , and the president of the Commonwealth of the Western Costa del Sol, José Antonio Mena.
The work of the contestants has been evaluated by a jury made up of people linked to the hospitality and gastronomy sector, starting with the gastronomic consultant Lutz Petry, who has acted as president. With him have been Antonio Guevara, dean of the Faculty of Tourism; Luisa Giráldez, hospitality entrepreneur; Toñi Sánchez, gastronomic blogger; Miguel Avisbal, manager of large accounts at Bodegas Barbadillo; Manuel Balanzino, chef and gastronomic advisor; and Reme Reina, food blogger.
The contest is sponsored by Turismo Andaluz – Junta de Andalucía; Diputación de Málaga, through the promotional brand Sabor a Málaga, the flavor that unites us; the Commonwealth of the Western Costa del Sol; Victoria Beers; Los Mellizos, the Costa del Sol Beach Entrepreneurs Association (Aeplayas), the Costa del Sol Beach Association, Intedya, Am Seguridad and Bodegas Barbadillo. In addition, the Torremolinos City Council, Dos Vegas Gourmet and Coca-Cola collaborate.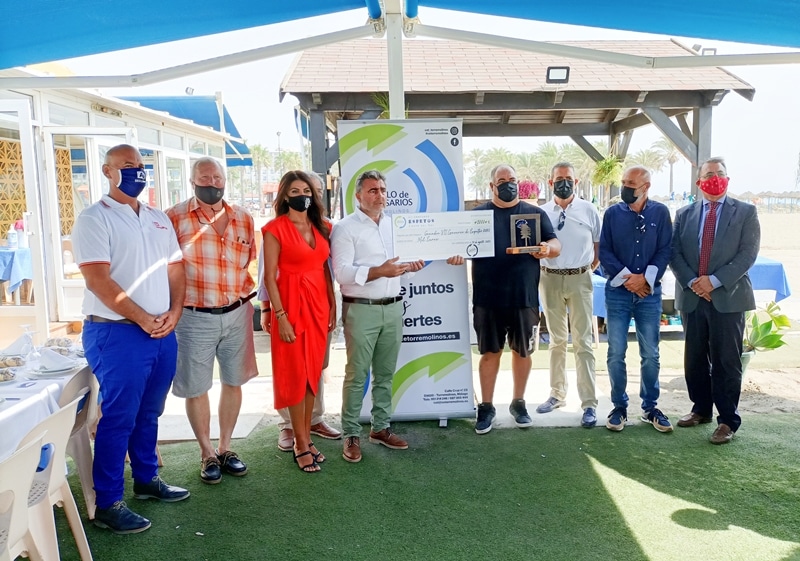 The president of the Círculo de Empresarios de Torremolinos, Adolfo Trigueros, highlighted the work carried out to recover the format of the event on the beach, after which last year it had to be done behind closed doors. "It is a way for us to continue promoting skewers as a gastronomic icon on the Costa del Sol and the city of Torremolinos as a tourist reference."
This year, the celebration of the contest has placed special emphasis on the use of the rod to skewer the sardines and the fish presented in the contest, and the use of metal to bruise the fish is not allowed. In addition, during the morning workshops have been held where attendees have learned to broil sardines from professionals. For the first time the event has been open since noon so that residents and visitors can enjoy the art of skewer throughout the day.