The 'I DEXTER Financial Convention' took place on March 30 at the Gran Meliá Don Pepe hotel in Marbella, bringing together 300 businessmen from various sectors and prominent executives from the financial field, including senior representatives of international investment funds to whom the company represents in management and intermediation. DEXTER GROUP, which is about to turn five years old, chose this event to take stock of its enormous growth and expansion throughout Spain, covering various productive areas of the economy and based on mortgage-backed loans.
During the day, new corporate videos of the company were presented showing its latest financing operations, some of them iconic in the real estate scene. Several executives of the firm, such as Salvador Zotano, Data Protection Officer, highlighted the importance of having top-quality seals that recognize their commitment to personal data protection. Jesús Prieto, Director of Dexter's Legal Services, also spoke, who pointed out the new business opportunities that are opening up with the latest reforms in bankruptcy proceedings, emphasizing the importance of protecting financing operations from a legal point of view.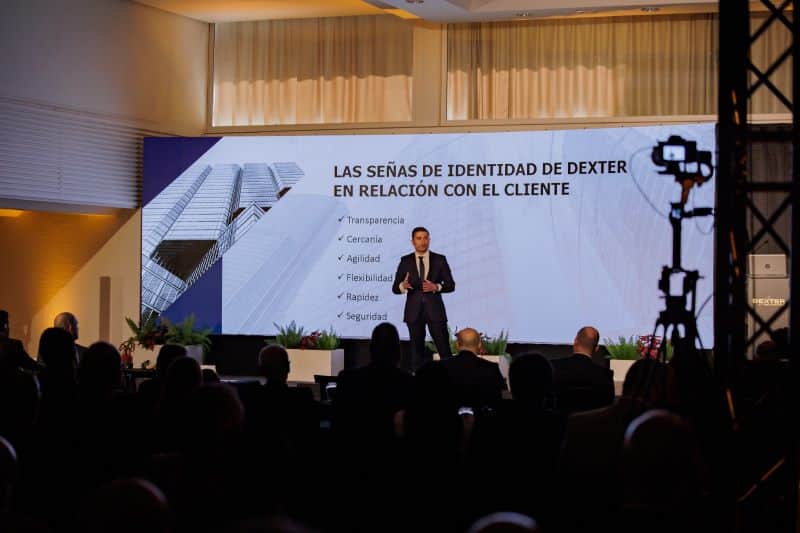 The vice president, Alfonso Merlos, outlined the objectives and strategy for the next five years, highlighting the company's vocation for being a forerunner, avant-garde and leader in the world of private capital. He mentioned the technological investment in innovative systems such as big data and artificial intelligence to identify the best projects throughout Spain, as well as in compliance to have the best image of each company that seeks to associate with DEXTER.
During the dynamic and complementary interventions, José Manuel López Pascua, from the Real Estate Business School, historically analyzed the reasons why non-bank financing is experiencing a particularly booming moment in Spain. And the strategic adviser, Lorenzo Sánchez Hidalgo, highlighted the importance of understanding the composition of the Spanish business fabric in order to understand its capital needs.
After the theoretical and technical part of the event, there was a networking session in the gardens facing the sea of the packed Gran Meliá Don Pepe in Marbella, where 300 national and international businessmen met, including developers, builders, architects, lawyers and financiers. . With this convention, the brand reaffirmed its leadership in alternative financing for companies with private capital.