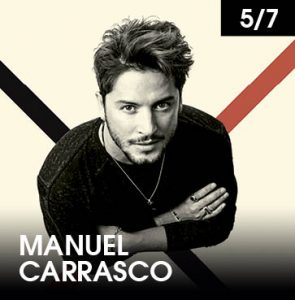 Manuel Carrasco
Manuel Carrasco will be back at the Auditorium stage of Starlite 2019 on Friday, July 5th.
After his acclaimed concerts at Starlite 2017, the storyteller par excellence, Manuel Carrasco, will return to the festival to star an unforgettable show full of his moving music and lyrics that characterize him so much.
Manuel Carrasco, a composer with the amazing ability of converting words into verses and transforming emotions into songs, has formed an own path in the industry thanks to his personality, artistic quality, humility and philanthropy; which have taken him to reach the highest musical recognition in Spain.
Undoubtedly, on Friday July 5th, the Auditorium stage will live one of the most emotional shows of Starlite 2019.
* Manuel Carrasco will be also performing in a second show at the Auditorium stage of Starlite on Tuesday, August 20th.