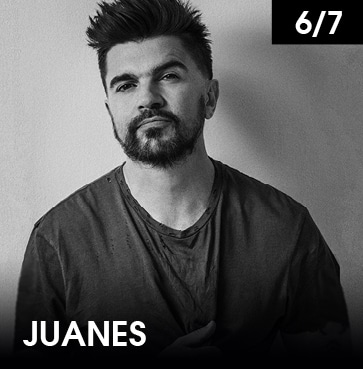 Juanes
The talent of Juanes will be back singing on the Auditorium stage of Starlite 2019 next Saturday, July 6th.
Juanes, who has become Latin Rock's leading global ambassador, will be performing all of his greatest and latest hits at Starlite 2019, making the audience witness the distinctive sound that fuses his love of rock & pop music with smartly crafted, multi-layered songwriting and deep reverence for the traditional folk and other indigenous rhythms of Colombia and Latin America.
With seven multi-platinum studio albums, a critically-praised MTV Unplugged release, and Disney soundtrack work to his credit, Juanes has sold millions of albums around the world, notched ELEVEN #1 Billboard singles, held multiple records for Latin rock chart duration, and has been recognized with numerous awards, including a staggering TWENTY-SIX combined GRAMMY & Latin Grammy Awards.
No doubt it will be a night to enjoy the music of Juanes, who continues to break new ground for Latin Music, on Saturday July 6th, at Starlite 2019.