Design Week Marbella 2022 was inaugurated this Thursday, the great event that is going to turn Marbella, from September 22 to 28, into the international capital of design and into a truly unique experience for the thousands of visitors, both professionals and individuals, who these days will pass through the Palacio de Congresos de Marbella.
As in its first edition, DWM22 presents an impressive cast of renowned professionals in all disciplines, as well as important companies, brands and firms in the sector, who have created unique spaces where you can discover the latest developments and trends in interior design, architecture, avant-garde construction, art and design. A second edition that also comes with many new features: from the new Free Construction Zone and a multitude of informative talks and conferences, to artisans and artists working live, immersive experiences and NFTs, spectacular restaurant areas and much more.
The presentation ceremony was attended by Ms. Carmen Sánchez Sierra, Territorial Delegate for Employment and Economic Transformation of the Junta de Andalucía; Ms. Carmen Díaz, General Director of Culture, Education and Historical Heritage of the Marbella City Council; Ms. Laura de Arce, General Director of Tourism of the Marbella City Council; as well as sponsors, exhibitors, members of the DWM22 Awards jury and other guests, who did not want to miss the official opening of this great international event.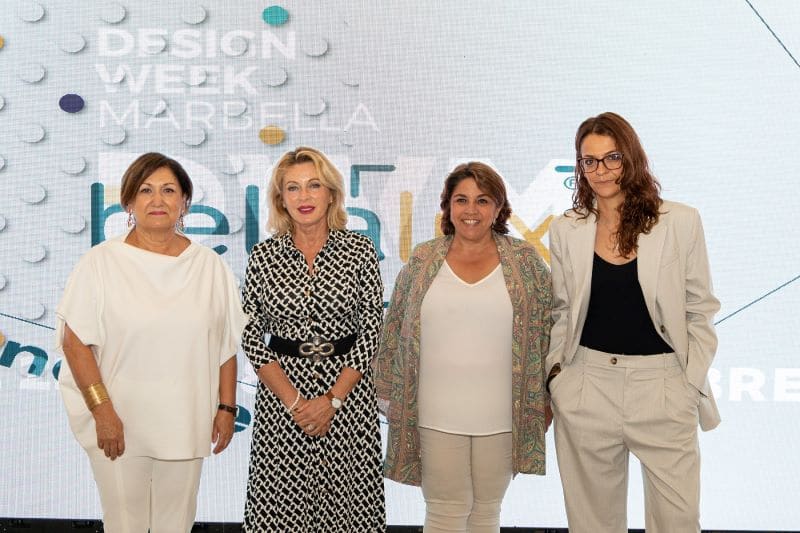 After the presentation and welcome speeches by Ms. Carmen Sánchez Sierra, Ms. Carmen Díaz and Carolina Abril, general director of Design Week Marbella, guests and authorities have made a guided tour of the main spaces of the exhibitors and exclusive areas of the pavilion; among many others, they have visited the proposal of the landscaping studio La Menara Landscape, a space created for relaxation and relaxation, with privileged views and surrounded by an orchard of plant elements; the Estudio Alegría space, a benchmark for style and avant-garde; the Estudio Baelo space, "From craftsmanship to innovation", a vindication of the artisanal concept and a dialogue between traditional and contemporary designs; and the spectacular gastronomic space created by Fernando López, from the Huete Arquitectos studio. Afterwards, the guests enjoyed a welcome cocktail in the Fernando Moreno showroom, one of the sponsors of this second edition of Design Week Marbella.
The opening ceremony of Design Week Marbella has also wanted to become a different and unique experience, with some surprises for the attendees. A lot of live activity has taken place in the area with artists and art galleries, as well as craft demonstrations. Outstanding mention for the spectacular artistic and solidarity project Calavera Padre, born at the Beach Club Playa Padre, and which has had a special role at the Design Week Marbella inauguration, with the live artistic intervention of Cristina Galeote; an unrepeatable experience to enjoy the creative process of this Sevillian artist.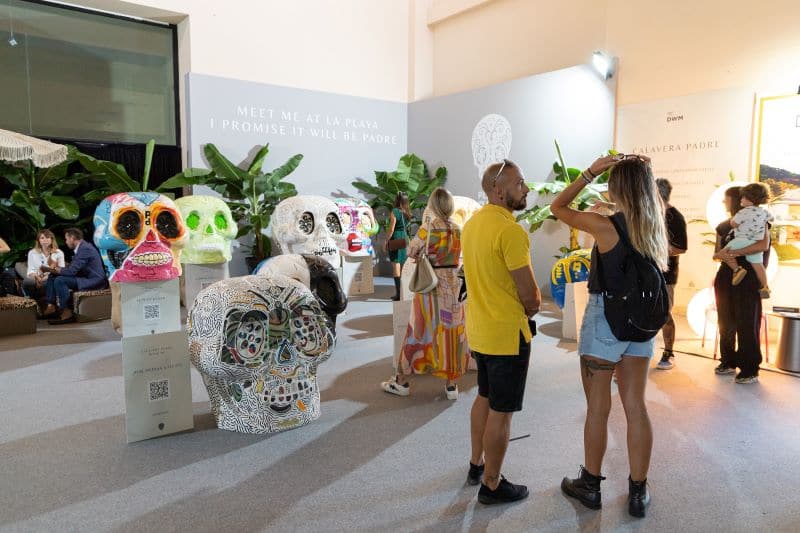 Reference names from different disciplines form the jury of the DWM22 awards
Design Week Marbella will reward the best original proposals for construction, architecture and interior design, selected by a jury of renowned professionals in the sector. These DWM22 Awards will be sponsored by Inves Proyect and Nova Stone and designed by Alberto Galán, from Estudio Tobal Arquitectos. The members of the jury for the Design Week Marbella 2022 Awards are: Mr. Francisco Sarabia Nieto, Dean-President of the Official College of Architects of Malaga; Jesús Sánchez, Technical Director of Jamena Construcciones; and Chema Sobrado, architect and co-founder of Archidom Studio.
For the awarding of each prize, the creativity and originality of the projects will be especially valued, as well as innovation (also in materials) and the ability to set trends in the market. And it could not be otherwise at a fair like DWM, whose objective is to turn Marbella into a meeting point, local and international, to show and discover the latest news and the most avant-garde trends, as well as established and emerging talent, from this exciting world of interior design, architecture, art and design.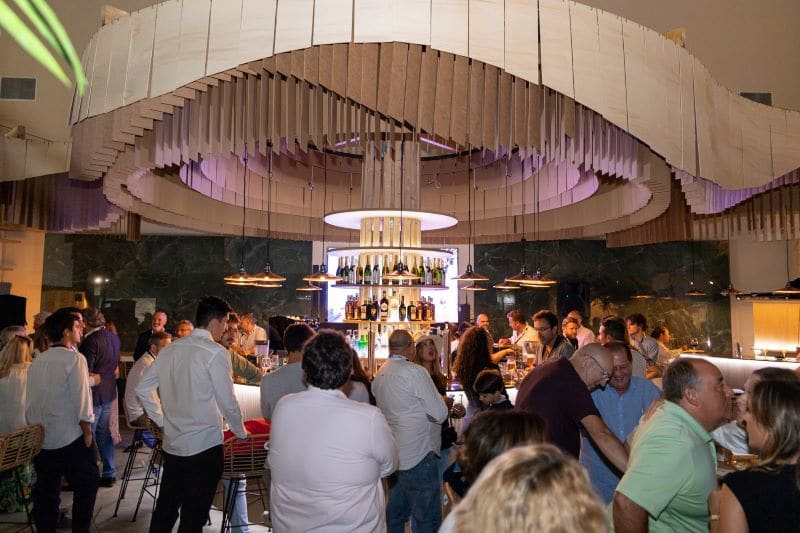 More than 450 national and international firms and brands participate in DWM22
Design Week Marbella is a different and innovative fair, which was remarkably successful in its first edition, bringing together more than 15,000 visitors and 426 participating brands. An impressive figure that has already been surpassed in this second edition.
DWM22 has already been joined by important groups such as Iberia, El Corte Inglés and EADE Universidad, as well as Bang & Olufsen Marbella, Atlas Group, Elite Excellence-Federación Española del Lujo, Colabora Empresa, AMMA Consulting, Restaurante Bocanegra, CR Class, Finsa, La Ciudadela Boutique Hotels, Nova Stone, Inves Proyect and Bellalux, Fucking Wood, Fernando Moreno, Mantarraya MX Restaurant and Sound for Events. It also has the support of the Junta de Andalucía and the Marbella City Council, as they did in its first edition.
Other names of the highest level -both companies and interior designers, architects, designers and artists- that have joined Design Week Marbella 2022 are: Huete Arquitectos, Jesús Peña, Ipe Maderas, GLC Lighting, Estudio Alegría for Tekwood and Rekker with special collaboration of KA International, La Menara, A3 Composites-Alucobond, Casania, Turri, Arturo Montilla Arquitectos, Fuertes Santamarta with the collaboration of Mercado Da Pedra, Techos Tensados ​​Málaga, Vajillas La Cartuja, Villeroy & Boch, OCWA Architects, KLIC Architects for LAclave Spain, Aritco, Treforma, Cement Design, Etagon, Moisès Gil, Juan Antonio Tinte and Javier Román Galería, Sandra Plata, Grupo Rockstar, Decodan Studio and Danilo Badulati, Alberto Galán de Tobal Arquitectos, Sforzin Illuminazione, Elmar Cucine, Melogranoblu, Dall 'Agnese, Twils, Ozzio Italia, Natural Architecture with Hugo Vogel and Valeria Vogel, Maderas Gámez, Roche Bobois, Hogar Madera, Maison Mesa as guests of honor, Exclusive, Tour, Ávila Interiors, Sunso, La Fábrica de Hielo, Groove Garden in collaboration with Garden la Palma, Junco Africano, Ariel Elizondo, Solartime, Tinoco Studio, Pablo Cousteau, Isabel Soto, Francisco Alarcón, Tigre Estudio Arte + Deco, MainGUILTY, Hormitech for Ángel Rodríguez, Estudio Baelo with Juanjo Jiménez (accompanied by Beonit Design, Krion-Porcelanosa Group, Aluplast Del Sur, La Colorería, Rif. Construcciones, Ecorpier, Isla Negra, Siolca, New Chester Style, Marta De Pablos/Conexionarte), Mamoa, Fernanda J. Carregado, GodoPools and Lux ​​Loungers, Gerard Puxhe, Nagami Design, Curro Leyton, Best Garden, Bdhome, Comoli, Bonaldo, Grupo Renova, Casania, Murari, Onesta, Sicis, Gira, Jara Bedmar, Tarimatec, Lamett with S. Indoor Ideas and Parquetvinyl, Padre Beach, Maderas Hermanos Navarro, Industrial Furniture, Creo International with OCWA Architects, Ibermaison, Ars Antiqua Audio, Gran Sol, Hogar Madera, Charly Simon Photo, JoGisArt, Cipressi Gallery… among many others.
A space for dissemination: great program of conferences, round tables and live activities
Design Week Marbella 2022 is committed to becoming an experience that is truly different from any other. A complete and immersive experience. In addition to having six different exhibition formats, numerous exclusive art and craft activities, unique spaces to discover the latest trends in interior design, architecture, art and design, another of the highlights of this edition will be the new cycle of conferences, talks and round tables. An entertaining and interactive informative space dedicated to topics of great interest for professionals and individuals.
Some of them are, for example, the round table "FINSA & SIMON COLLab co-creation project. New industrialized systems for interior design", in which Gonzalo Batista Tertiary (Business Corporate Director SIMON), Jacinto Seguí (Technical Consultancy and Specification Director FINSA) and Enrique Galán Bernardino (FINSA Technical Consulting) as moderator; "Creative applications in natural stone", conference by Anil Taneja (director of LITOSonline.com and LITOS Magazine and director of the World Natural Stone Association); "ABOUT LUXURY. Interior design for investments in exclusive properties" with Ana M. Fernández Martín (Founder of the interior design studio "Decora y vende") as speaker; "The metaverse applied to interior design", given by Kevin de Ribes (co-founder of Elite Excellence-Spanish Federation of Luxury and president of Madrid Capital of Luxury), among many other talks and round tables.
The appointment with Design Week Marbella is from September 22 to 28 at the Palacio de Congresos de Marbella.