Last week our team meet Caroline Gaspard at Gomez y Molina Jewelry and we decided to know a little bit more about her and her love for designing jewelry, how she started her brand Akillis and the collections that are exposed in Marbella.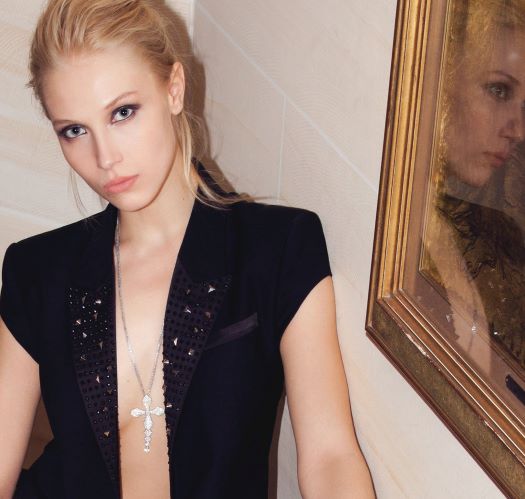 Akillis was founded by Caroline Gaspard in 2007. Caroline explains that by the time all the jewelry was very classical, but Caroline believes that jewelry is a way of expressing herself so she decided to start designing modern jewelry for both men and women. During an interview that the French designer had with our time, she told us that she wanted to create jewelry that she would be able to share with her boyfriend. Akillis jewelry is made in France and the brand has really defined standards, using black diamonds and titanium for men and white diamonds for women. Akillis was the first brand to mix titanium with black diamonds.
The collection Tattoo created by Caroline was inspired by a lifetime that Caroline wanted to change her style so she thought about making a tattoo but she did not want to have a tattoo forever in her body, so she started making Tattoo out of gold and diamonds. The design of this collection permits you to see the skin between the jewelry just like a tattoo. This collection is made of black titanium, black diamonds, and white gold and white diamonds.
Akillis has a very modern "love collection" and we can see that even though the name, "Capture Me" the founder of Akillis explained to us that this collection is inspired by that part of a relationship when you fall in love and want to be trapped. For this collection, the brand got a big diversification always keeping up the concept and standards of the brand.
Piton is more of a geometrical collection Caroline maintained the shape of the piton. The Lady used different geometrical figures and pull them together always having the piton tail as an inspiration. The bracelet of this collection popped up a lot to us because it is a snake biting its tail and the designer explained to us that it is like the cycle of life.
Gomez y Molina
You can now buy your Akillis jewels in Marbella, as is exposed for sale in Gomez y Molina Puerto Banús Jewelry. According to the owner of the store Marina Gomez Molina, the jewelry is known for searching for contemporary unique pieces, Marina also told us that Akillis is so different, very original, ageless, ungender, light and easy to wear, a high-quality brand and that is the kind of jewelry that their clients are looking for.
Gomez y Molina is the only company representing Akillis in Spain and the store has clients from all over the world.
If you are a jewelry and diamond lover, what are you waiting for to visit Gomez y Molina and go see Akillis collections?